Course Description
Subjects of the masterclass:
How to build an international Brand

Innovation in the today's music industry 

Transform Ideas in Reality

Manage a first class Team

Struggles and Rewards of 7 years with HEX

How to be Special and make people be your first promoter
HEX Academy join forces with Home Of Sound to offer 3 exclusive Masterclasses.
For the third installment of our collaboration, we have the HEX funders, Paolo Ferrara and Lorenzo Raganzini to share their knowledge on creating and growing a successful music & art brand. 
For those who are not aware of it, HEX is an independent Techno movement started in 2014 composed of music, art, clothing, photography, and video; a crossroads for different people who share the same interest in music and alternative expressions of art. A safe space to express, and be, without boundaries. HEX has become part of many people's lives, representing an escape from social prejudices and imposed limitations. 
Join us to know more about how to find a strong concept and idea behind a music brand, identify a solid vision, a precise target audience as well as make it sustainable during the years. What's the one thing that differentiate a simple brand from a global movement? What's the secret behind the relentless grow and expansion of HEX? How hard is today to innovate the music industry and propose a new vision and approach?
This class is open from beginners to advanced music lovers, with no production skills necessary.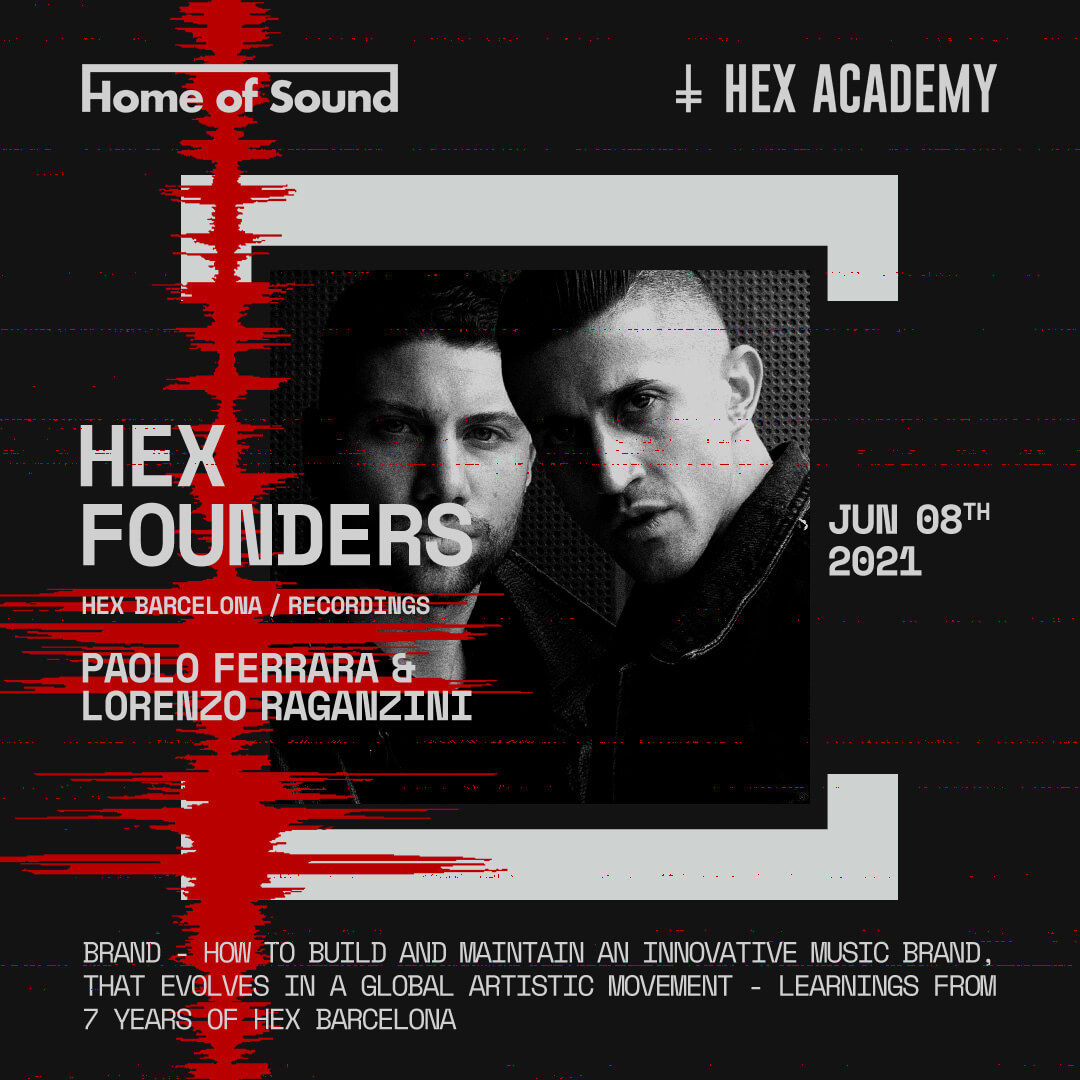 Lorenzo Raganzini and Paolo Ferrara's Biography
Lorenzo Raganzini and Paolo Ferrara are the two founders of HEX who started the movement as event series in 2014, its clothing line in 2015, the label in 2019 and the online academy in 2021.
Over this past 7 years they have been directly managing HEX and all its branches, from its early start to the actual global reach.
Access The Full Course
It includes the recording of the call and the possibility of watching it again at any time
8th of June - 18:30 GMT / 19:30 CET
LIVE Masterclass via Zoom
*Buy it now with Early Bird discount, before the price goes up!